Have you taken the time to analyze your content marketing KPIs? When is the last time you measured the success of your ROI? According to Semrush, 84% of businesses have a content marketing strategy, but only 11% think they have an excellent one. Content strategy alignment is a critical factor to success.
As you put more time into building a content strategy, conducting SEO research, implementing your keywords and re-purposing content—you'll likely see a growing readership and increased sales. But how do you properly measure your success? Using the right KPIs will allow you to identify under-performing content and apply the right fixes.
Identify Your Content Marketing KPIs
Before even looking at your metrics, it's important to decide as a team what your ultimate objective is for the content, as well as your key performance indicators (KPIs). Take the time to sit down and map out the "why" behind your business. Ultimately, the more you focus on providing value to your target customer, it's easy to come up with a customer-centric goal.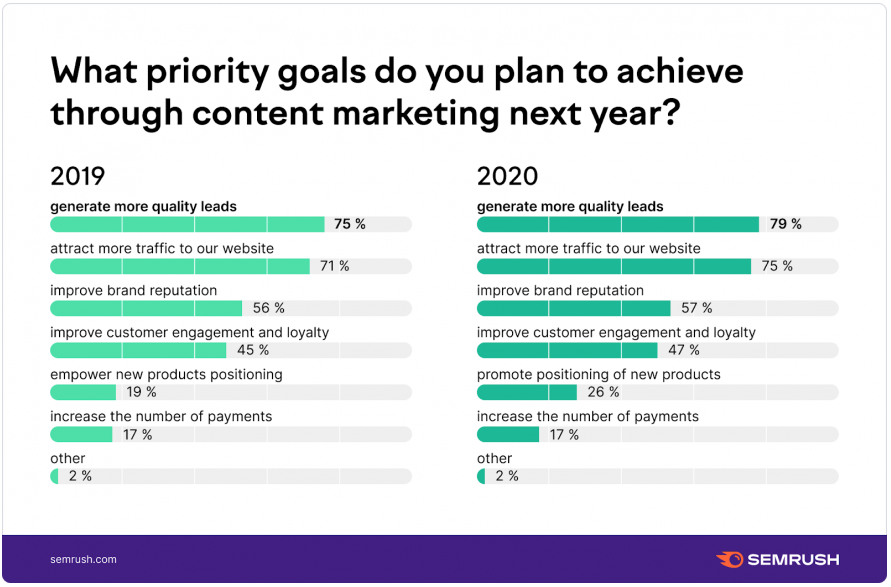 Here are 5 content marketing KPIs to analyze the success of your content:
1. Traffic
Perhaps the number one metric and lifeline when it comes to content creation and B2B search marketing is traffic. It doesn't matter how relevant or well-written your blog posts are if no one is reading them. If you choose nothing else to focus on, you must implement a strategy that analyzes traffic. Take it one step further and assess the following categories in Google Analytics: Users, Pageviews, Unique Pageviews, and Avg. Time on Page. This will tell you which of your content is performing.
Furthermore, be sure to tag your traffic with UTM's to understand where your traffic is coming from. If you are using multiple distribution channels and working with partners, this will be vital in tracking distribution success.
2. Engagement
While your page view numbers may be high, are they a result of gaining traffic through clickbait headlines? To understand if readers are engaging with your content, you must look at the amount of time spent on a page, as well as how many pages they visited. The more content they engage with, the more likely they're interested in your brand. In a perfect world, you want a high number of pages per session, a long average session duration, and a low bounce rate.
3. SEO Performance
Next, you'll want to look at your SEO performance. To do so, visit Google Search Console or a more advanced tool such as SEMRush. There are plenty of different performance measures you could analyze, but SERP ranking is probably the most important one. This is your page's position in the search engine results for a particular keyword phrase. Note that this can change and fluctuate frequently, so you'll either want to remain in your current position or ideally, increase in ranking over time. The higher your SEO ranking, the more organic traffic you'll drive to your site and hopefully—increase sales.
4. Conversion
Conversion is the real reason you've likely put all this work into content creation. Now is the time to assess if readers are being converted into customers, whether that be through sales, email sign-ups, or even social shares. For B2B brands, the goal is either conversion of leads or better yet, a sale. It's important to include content from all stages of the sale cycle, as almost no one goes from first-time reader to customer. Once again, you'll want to visit Google Analytics and view the page value of all your content under the behavior section. This metric will reflect the average revenue each page has generated over its lifespan. This value being correct depends highly on how conversion tracking in Google Analytics has been configured. By setting goal values, such as a contact form being completed to something like $100 you can begin to measure results quantifiably.
From there, you want to tweak the copy or even remove poor-performing pages altogether and drive customers towards the pages that do well. This can be done through additional link building campaigns or paid social media strategies.
5. Authority
This can be the most difficult metric to analyze, as there are no clear data points. The more authority you can establish in your industry, the higher the conversion rate. The tool Moz has a built-in authority ranking feature that provides insight into how Google might view your brand and website. These DA (domain authority) and PA (page authority) scores range from 1 to 100, with higher scores corresponding to a greater authority. While there is no clear "good" number, you should aim to perform better than your competitors.
Overview of Content Marketing KPIs
While it may seem like witchcraft at times, assessing your content marketing KPIs will allow you to gauge the success of your content. It can be time-consuming, but thanks to the collection of digital tools available, it's easier than ever to analyze the data and make tweaks to keep your content strategy strong (and profitable!).
Part of the Founder's Guide to B2B SaaS Marketing eBook. Download your free copy.