So you've spent all this time producing killer content—great! But perhaps over time, you're feeling drained and experiencing writing fatigue. You don't have to constantly turn the wheel. Instead, consider repurposing your content through SaaS email marketing. By creating a monthly email newsletter, you can re-share your blog content to your subscribers and gain a larger reach.
Wondering how to get started? Following along with our checklist to start repurposing your SaaS content into an email newsletter:
Part of The Founder's Guide to B2B SaaS Content Marketing. Available as a PDF and Video Series.
Step One: Select an Email Newsletter Tool
There are hundreds of email newsletter tools for re-purposing content, but the industry leaders are Mailchimp and Hubspot.
Mailchimp offers an easy RSS feature, which means you can set up an RSS email campaign to automatically share new posts to your subscribed contacts. This type of campaign pulls in RSS (Real Simple Syndication) content and emails it to your audience based on a recurring schedule you choose. To set up an RSS feed for your WordPress site, visit FetchRSS.com and follow the simple steps provided.
HubSpot is another great option, offering easy plug and play template options that work with the rest of the tools within HubSpot's suite. HubSpot's CRM provides valuable insights into customer behaviours and informs your messaging. With historical data, you can easily target the users most suited for the content you're sending.
Step Two: Choose a Template & Colour Scheme
Once you choose your email provider, you'll want to start looking at templates. If you're not familiar with designing emails, pre-built templates will save you countless hours. Both Mailchimp and Hubspot offer easy to use template designs. Using a template will give you an idea of how your newsletter will look before writing copy. That way, you'll know exactly how much space you have to promote a piece of content. With your chosen template, you'll have the chance to customize. Consider adding your logo, selecting a colour scheme that reflects your brand, as well as fonts.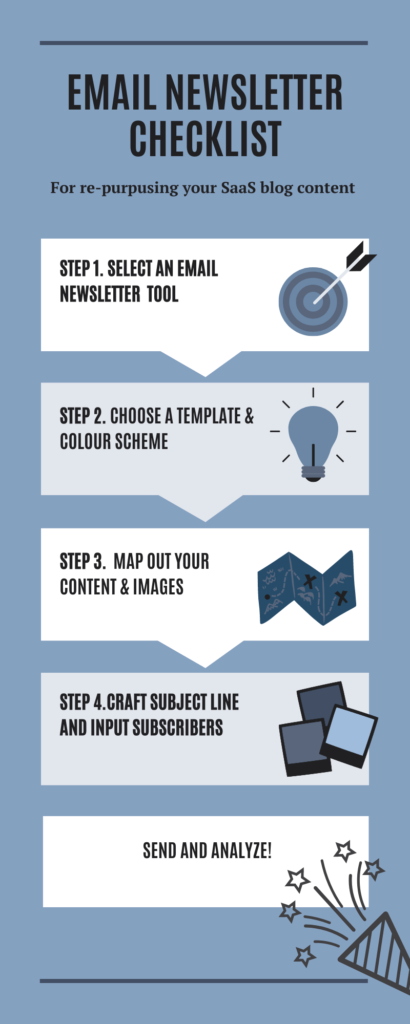 Step Three: Map Out Your Content and Images
This should be the easiest step, as we are simply re-purposing blog content. Select your top performing blog posts from the month. From there, compile a catchy headline, image and intro blurb, and paste them into the body of your newsletter. Most people keep the copy short and sweet to encourage click-throughs to read the full post. Rinse and repeat this step for each piece of content you wish to include. To keep things engaging, try to include at least one video into your newsletter as well. Don't forget to edit your email thoroughly — maybe even send it on to one of your teammates for a once-over.
Step Four: Craft a Subject Line and Input Your Subscribers
Subject lines can be a make or break for your newsletter and determine whether they're ever read. One specific strategy that can be used for SaaS companies is including an immediately actionable value proposition in the subject line.
You may have try multiple methods, but we've found that having a sender name from a real person increases the chance of opens and click-throughs. Try running an A/B test to see if it works for you, too. Whatever you choose, make sure it's something recognizable so recipients aren't confused as to why they're receiving your email.
When it comes to uploading your subscriber list, most platform will allow you to download your list into an Excel spreadsheet, this can then be re-uploaded into your newsletter platform to instantly access and segment subscribers. Easy as 1-2-3.
Step Five: Send and Analyze
Congratulations! You've completed your first SaaS email marketing campaign, all while re-purposing your content. Both newsletter platforms previously mentioned offer live feedback, so you can watch to see who opened your email, click through rate, links clicked on and so much more. Spend time after you've sent out your campaign to sit down and analyze the data for future newsletters. You may want to try a different format, or perhaps you've noticed a certain kind of content preforms better than others. As time goes on, the more newsletters you send, the more data you will have at your disposal.
Ultimately, repurposing content for SaaS email marketing can lead to a winning strategy. If you prefer a more hands off approach or are short on time, let the Sonan Digital team oversee your content marketing. Get in touch with one of our team members today!
Part of The Founder's Guide to B2B SaaS Content Marketing. Available as a PDF and Video Series.