Business is competitive. Every business owner will typically have a few local competitors that they would like to stand out against. Local SEO is key to ensuring that you appear in Google Maps listings. While local SEO may seem like a black box at first, there are a few ways to ensure you stand out. Below you will find the Sonan Digital guide to local SEO in Ontario.
What is Local SEO?
Firstly, before you dive into trying to improve your local search engine positioning, you need to have a clear understanding of what SEO is. We recommend reading up on the topic through our post, What is Search Engine Positioning? [SEO 101]. While you can have certain web pages rank for topics, when someone is say searching for "Barber Shops in Barrie" as an example, the first thing that appears is a Google Maps list of matching businesses. Local SEO is different from traditional SEO as you will only be competing with local competitors instead of nationally.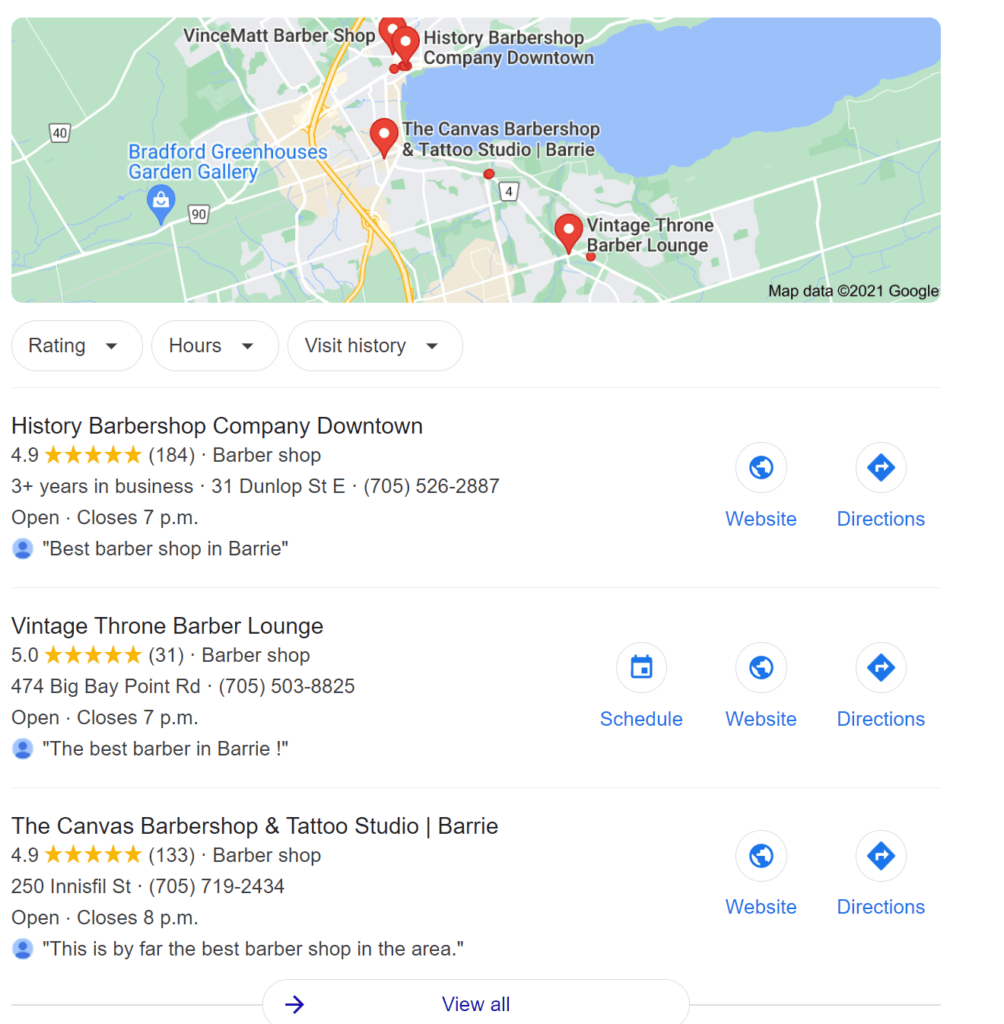 This is great news for many small business owners, as competition for entire keywords can be steep. If you are competing against only a handful of matching businesses, appearing in these searches is much easier. Taking the time to develop an understanding of search engine design goes a long way.
How To Rank For Your Keyword Locally
There are a few ways to ensure that you are ranking for your specific keyword locally. While nothing in the world of SEO is ever guaranteed, if you take the following steps you will rank higher!
Ensuring Your Google Maps Listing Is Updated
The first step to success in Local SEO is to update your Google My Business Profile. If you are unsure how to do this, see our guide here.
Once you have your profile completed, you want to ensure it has as much information as possible. Google loves to promote businesses that have complete information and great reviews. By ensuring you're regularly updating your profile with things such as scheduling links, and open hours you'll start to rank higher. Another big factor is the number of reviews and ratings. Be sure to collect as many positive reviews as possible and you will also see a boost in exposure. Beyond basic information and ratings, you can also add photos, products, and list your services. This will help immensely as Google will know that you offer that should someone be searching for it. Instead of only appearing for the term barbershop, you will also be found when someone searches "Straight Razor Shaves in Barrie" as an example.
Beyond Google My Business, ensuring that your social media profiles are updated with the same information is crucial. While you cannot manually add social media links to Google Maps, Google will add them automatically if set up correctly.
Great Web Design – Essential for SEO
While ensuring you have great web design is essential for traditional SEO, it is also relevant in local SEO. If you are driving traffic to a site with poor web design, visitors won't turn into shoppers. You need to ensure that your page loads promptly and offers a winning design. For more information on web design check out our post.
Collecting Local Backlinks For Your Business
There are many listing directories that you can have your business listed in to boost your domain authority and therefore your local SEO. Sites like 411.ca or the Ontario Chamber of Commerce allow you to list your business. Google will use these backlinks to help determine the credibility of your website and business. SEO experts such as the team here at Sonan Digital, can also help you find high-quality listing sites to ensure that your visibility is as high as possible.
Optional – Paid Local Search Ads
Many businesses across Ontario have also started to utilize paid local search ads to help boost their exposure. If you are still not getting the traffic you need after implementing the previous two steps, you can also consider this. For more general keywords such as "Restaurant", there may be many local competitors, by setting a budget of even $5/day you can see a boost in customers. From our experiences, this can be an extremely effective way of generating traffic if you are in a more competitive area or industry.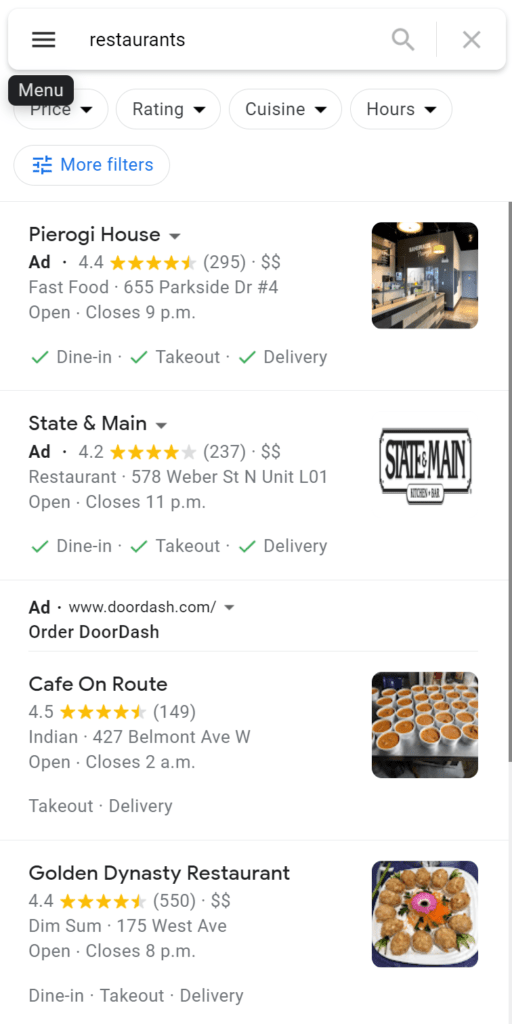 Digital Marketing Expanded – Utilizing Social Media Ads
Beyond paid local search ads in your digital marketing strategy, you can also consider ads on social media platforms such as Facebook. These also allow you to target local buyers rounding out your digital marketing efforts. Local SEO and social media marketing go hand in hand.
Get Ahead of Your Local Competitors Today – Local SEO Ontario
In conclusion, local SEO is dependent on a few key aspects. Including Google My Business profile completion, high ratings, plentiful reviews, as well as quality backlinks to your website. Paid local search ads can also be used as an effective way of boosting your exposure. If you would like expert guidance with your local business presence, be sure to reach out to our team based in Kitchener, Ontario for a free consultation!